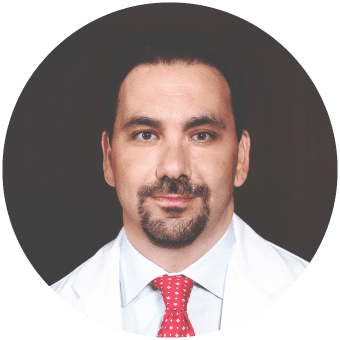 Rick Ganim
M.D., F.A.C.C., F.S.C.A.I.
---
Specialty
Cardiovascular Disease, Interventional Cardiology
Year in Practice
Since 2005
Board Certification
Internal Medicine, Cardiovascular Disease, Interventional Cardiology
Dr. Ricky P. Ganim graduated with honors from the University of Texas Medical School in Houston. While attending medical school, he was a member of the Alpha Omega Alpha Honor Medical Society. He continued his education at UT Medical School and completed his fellowship in interventional cardiology.
Furthermore, Dr. R. Ganim is board certified in interventional cardiology, general cardiology, and internal medicine. From 2009 to 2012, he served as Chairman of Cardiovascular Medicine at Kingwood Medical Center, and in 2014 served as Chief of Staff. From 2013 to 2015, he was recognized as a "Texas Monthly Super Doctor, and in 2012 received the "Healthcare Professional of the Year Award" from the Lake Houston Chamber of Commerce.
He is currently a Clinical Assistant Professor of Medicine at UT Medical School in Houston and the Director of Cardiovascular Services at Kingwood Medical Center. In addition, Dr. R. Ganim is a partner with Vital Heart & Vein, specializing in coronary and peripheral interventions. He is also involved in coronary artery stent research and drug therapy trials for various cardiovascular diseases.
Dr. R. Ganim proudly serves patients in the Kingwood, Humble, and Houston communities.