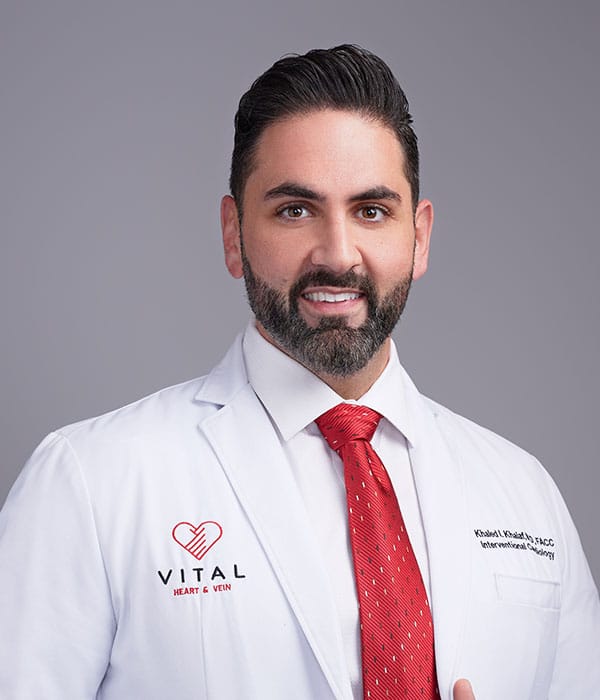 Khaled Khalaf
M.D., F.A.C.C., F.S.C.A.I.
Specialty
Cardiovascular Disease
Peripheral Vascular Disease
Structural Cardiology
Interventional Cardiology
Vein Specialist
At the age of 4, Dr. Khaled Imad Khalaf's family moved to Houston, Texas, from the West Coast. He has since completed the entirety of his educational training and post-doctoral residency and fellowship in Houston. In the prestigious Texas Medical Center, he was elected Chief Fellow of Cardiology and served as department Chair of Cardiovascular Medicine at HCA Kingwood Medical Center and Memorial Hermann Northeast Hospital.
After graduating with high honors from the University of St. Thomas with a major in Biological Sciences and a minor in Philosophy, he attended medical school through fellowship at the University of Texas McGovern Medical School. Following Internal Medicine residency, he completed a fellowship in cardiovascular disease and continued with advanced subspecialty training in interventional cardiology and structural cardiology. Furthermore, Dr. Khalaf is triple board-certified in Internal Medicine, Cardiovascular Disease, and Interventional Cardiology.
As an interventionalist, Dr. Khalaf has extensive knowledge in the latest technology involving peripheral artery and percutaneous coronary interventions as well as deep and superficial venous treatment. Dr. Khalaf also has a keen interest and skill in noninvasive structural heart surgery and was the first to perform a percutaneous transcatheter aortic valve replacement (TAVR) via the groin as well as repair a congenital heart defect known as patent foramen ovale (PFO) in the North Houston area. He was fortunate enough to train in one of the highest volume centers in the world for TAVR and serves as medical director of the structural heart committee at HCA Kingwood Medical Center.
Dr. Khalaf has research interests in obesity and insulin resistance on cardiac function, and has several articles published in various professional medical journals with a focus on cardiovascular disease prevention and outcomes. "Insulin Sensitizers and Heart Failure: An Engine Flooded with Fuel" has been cited as a breakthrough review that early on hypothesized the use of certain diabetic pharmacotherapies as more cardioprotective when compared to others, a concept that has since been proven in randomized clinical trials that led to expansion of FDA indications. "Predictors of increased ischemic time in ST elevation myocardial infarction" was presented at the American Heart Association, among other publications, which appeared in the Journal of the American College of Cardiology.
Throughout his training, Dr. Khalaf has been honored and elected Internal Medicine Residency Council Member, Memorial Hermann Hospital House Staff Executive Council Secretary, and Chief Cardiology Fellow. He was elected department Chair of Cardiovascular Medicine at both HCA Kingwood Medical Center and Memorial Hermann Northeast in 2020.
Apart from patient care, research endeavors, and staying on top of breakthrough technologies with the constant evolution in his field, Dr. Khalaf adores his family, both immediate and extended. He is very proud to be part of an active community from a long family lineage that traces back to the 1500s and literally has "thousands of relatives."  However, when it comes to clinical practice – "all of our patients are family at Vital Heart & Vein."
Qualifications and Experience
Board Certification
Internal Medicine, Cardiovascular Disease, Interventional Cardiology