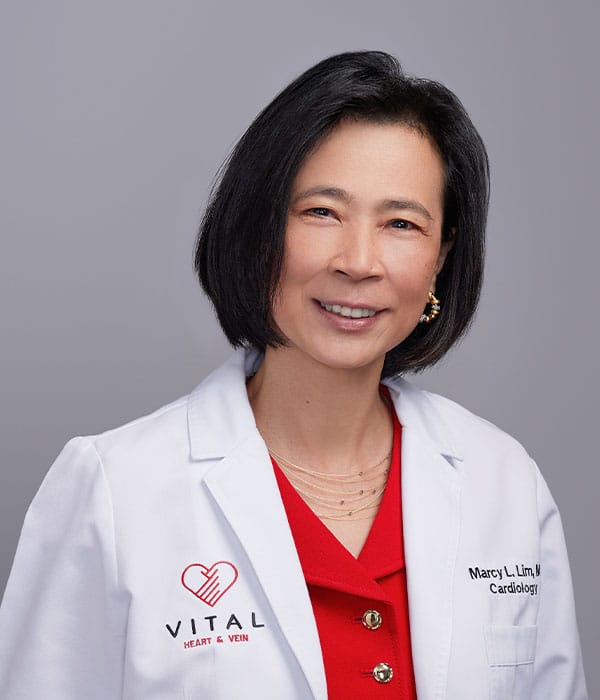 Marcy Lim
M.D., F.A.C.C.
Specialty
Cardiovascular Disease
Born and raised in the Philippines, as a student Dr. Lim consistently had a strong academic performance, which culminated in graduation from the University of the Philippines with honors. This strong academic performance led to her admission to the internal medicine residency program at Emory University School of Medicine in Atlanta. During her residency at Emory, a highly respected institution where balloon angioplasty was first performed, she became interested in cardiology. This led her to Houston, where she completed her fellowship at the University of Texas Medical School. She did research in echocardiography, published abstracts on doppler tissue imaging, and co-authored a chapter on nuclear imaging in the textbook "Heart Disease in Women."
While attending her fellowship in Houston, she fell in love with this wonderful Gulf Coast city and has since made it her home. In 2001, she joined Vital Heart & Vein (originally Cardiovascular Association) when it consisted of only a few doctors. Since then, she has been an integral part of its growth. Furthermore, she is most proud of the trust her patients place in her and the relationships she has built over the years. Dr. Lim believes her commitment to educating patients on prevention and treatment plans are key ingredients to being a great heart doctor.
Dr. Lim's strong leadership qualities have led to her election to many past and present positions, such as Chief of Staff at Memorial Hermann Northeast Hospital, Chairman of the Medicine Department at Kingwood Medical Center, and Chief of Cardiology and Chest Pain Center Director at Memorial Hermann Northeast Hospital. Despite her busy practice, she feels it is important to serve in these positions and help promote high-quality care as well as advance cardiac services in the local Humble and Kingwood hospitals.
Dr. Lim has been board-certified in Internal Medicine since 1994 and board-certified in Cardiovascular Medicine since 1997.
Qualifications and Experience
Board Certification
Internal Medicine, Cardiovascular Disease