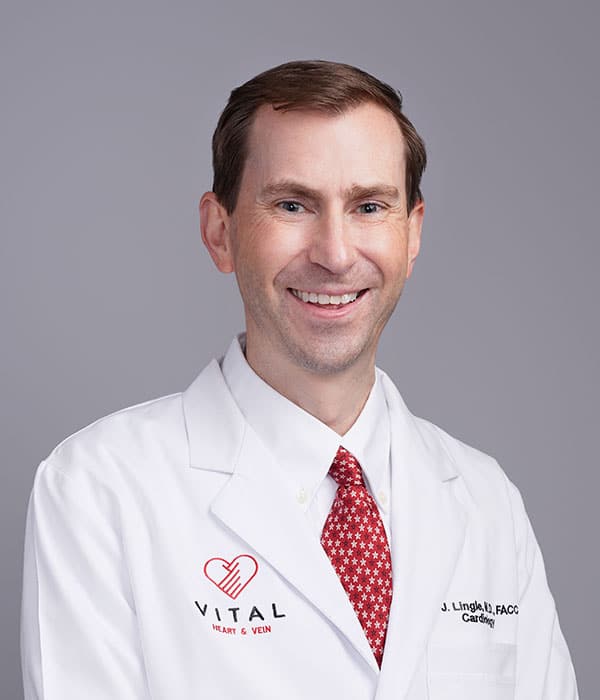 Robert Lingle
M.D., F.A.C.C.
Specialty
Cardiovascular Disease
A native Houstonian, Dr. Lingle graduated cum laude from Vanderbilt University with a degree in biomedical engineering. He earned his medical degree from the University of Texas Medical Branch in Galveston. After graduating from medical school, he returned to Houston to complete his internship and residency in internal medicine at The University of Texas Health Science Center in Houston. Thereafter, he completed his fellowship in cardiovascular medicine at the UTHealth in Houston, during which he served as Chief Cardiology Fellow.
Dr. Lingle is board-certified in cardiovascular disease. His professional interests include advanced cardiac imaging, and he specializes in advanced echocardiography, nuclear cardiology, and CT-angiography. His other interests include preventative cardiology, general cardiology, hypertension management, lipid management, and heart failure.
In addition, Dr. Lingle authored several articles that have been published in various professional medical journals, including his most recent publication, titled "Left ventricular assist device as a bridge to patient and myocardial recovery," which has helped pave the way for the broader use of left ventricular assist devices.
Accolades
Member at large for the MEC for 4 years
Chief of Cardiology for 1 year
Chairman of the credentials committee for 3 years
Chairman of the medical staff peer review committee for 2 years
Chief of Staff this year and next year
Memorial Hermann Medical Groups credentials committee for 6 years
Qualifications and Experience
Board Certification
Cardiovascular Disease