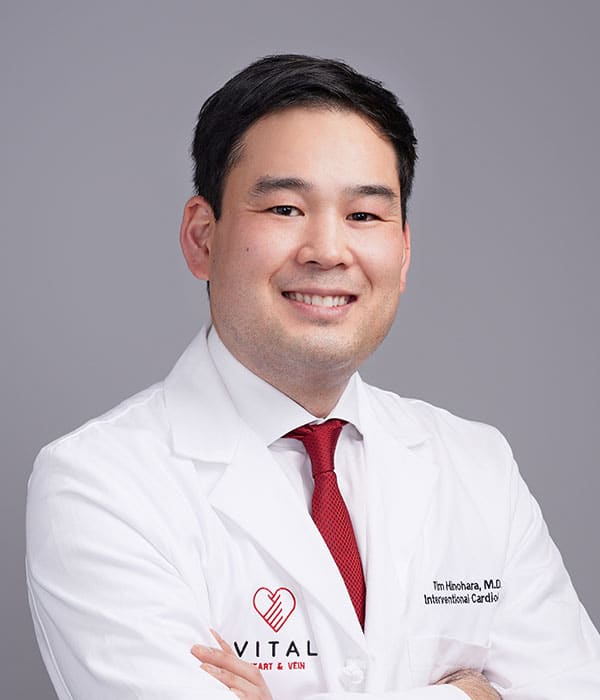 Tim Hinohara
M.D., F.A.C.C., F.S.C.A.I.
Specialty
Cardiovascular Disease, Interventional Cardiology
Structural Cardiology
Dr. Hinohara, a native of the San Francisco Bay Area, attended medical school at Oregon Health & Science University in Portland, Oregon, where he graduated with highest honors and received the Merck Award for Academic Excellence. He completed his internal medicine residency at Duke University, where he met his wife (now a transplant nephrologist). After his residency, Dr. Hinohara completed a fellowship in general cardiology at Mount Sinai Hospital in New York City, followed by a fellowship in interventional and structural cardiology at Houston Methodist in the Texas Medical Center.
Dr. Hinohara specializes in coronary, peripheral, and structural interventions including complex percutaneous coronary interventions, peripheral interventions, transcatheter aortic valve replacement (TAVR), transcatheter mitral valve replacement (TMVR), transcatheter edge-to-edge repair (TEER), and percutaneous closure of congenital heart defects such as patent foramen ovale (PFO) and atrial septal defects (ASD). Dr. Hinohara is board-certified in cardiovascular disease, interventional cardiology, echocardiography, and internal medicine.
Qualifications and Experience
Board Certification
Cardiovascular Disease, Interventional Cardiology, Echocardiography, Internal Medicine