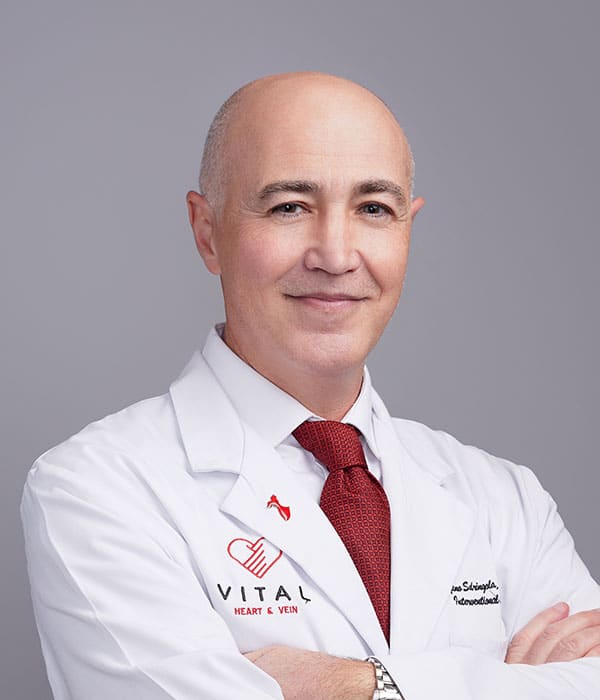 Stefano Sdringola-Maranga
M.D., M.H.A., F.A.C.C., F.S.C.A.I.
Specialty
Cardiovascular Disease
Interventional Cardiology
Nuclear Cardiology
Formerly a distinguished university professor at the University of Texas Medical School in Houston, Dr. Sdringola-Maranga joined Vital Heart & Vein in 2015. He is board-certified in internal medicine, cardiology, and interventional cardiology, and has also been certified by the Board of Nuclear Cardiology.
In 1990, Dr. Sdringola-Maranga graduated cum laude, receiving his M.D. from the University of Perugia in Italy. Afterward, he completed his residency and fellowship training in cardiology and interventional cardiology at the University of Texas Medical School in Houston, where he served as a member of the cardiology faculty from 2000 to 2015. He has cutting-edge knowledge and extensive experience in the treatment of acute coronary syndromes, comprehensive management of coronary atherosclerosis (CAD), prevention of revascularization procedures, and regression of atherosclerosis. He is an expert in nuclear imaging and positron emission tomography (PET) for accurate assessment and management of CAD. In addition, he is the author of more than 130 peer review publications and has been the principal investigator for "CENTURY Health Study," a 10-year, 1,300-patient study to promote healthy lifestyle choices, prevent tragedies, and reduce the direct and indirect costs from heart disease in America.
To have a better response to people's healthcare needs, he earned his Master's in Healthcare Administration in 2009. Furthermore, he is very active in the Houston community, providing free lectures and other educational activities for the prevention and regression of atherosclerosis. Among his many awards for teaching and quality of clinical service, he is the proud recipient of the prestigious "Leonard Tow Humanism in Medicine Award" (2012). He is also fluent in Spanish, English, French, and Italian.
Dr. Sdringola-Maranga joined Vital Heart & Vein to further contribute to its exemplary commitment of delivering value-based, patient-centered, compassionate service to its large community.
Qualifications and Experience
Board Certification
Internal Medicine, Cardiovascular Disease, Interventional Cardiology