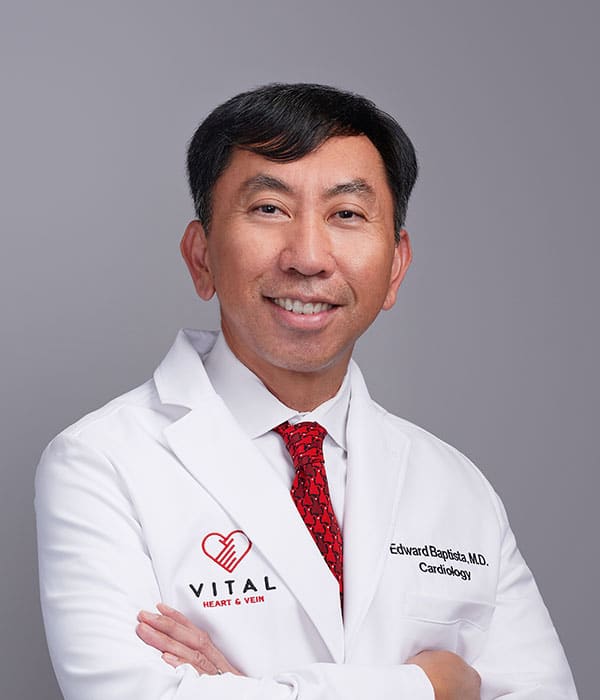 Edward Baptista
M.D., F.A.C.C.
Specialty
Cardiovascular Disease
Dr. Baptista was born in Quezon City, Philippines, but grew up in the Dallas-Fort Worth area. After graduating as valedictorian from high school, he attended the University of Dallas where he graduated cum laude with a Bachelor of Science degree in Biochemistry. Dr. Baptista earned his M.D. at the University of Texas Medical School in Houston. Here, he also completed his residency in internal medicine and served an additional year as Chief Medical Resident at the UT-Houston affiliated hospitals. At the same institutions, he completed a fellowship in cardiovascular medicine and served as Chief Cardiology Fellow. During his fellowship, he received the "Merck Clinical Fellowship Award" and was a recipient of a "National Institutes of Health Fellowship Grant."
Furthermore, Dr. Baptista is board-certified in cardiovascular disease and is a fellow of the American College of Cardiology. He has authored and co-authored several research abstracts and journal articles, and has also participated as co-investigator for several clinical trials. He serves as a Clinical Assistant Professor of Medicine at the UT Medical School in Houston.
Since joining the practice in 2003, he has served as Chairman of Cardiovascular Services at Kingwood Medical Center and was Chief of Staff in 2010. In addition, Dr. Baptista has been honored five times as "Physician of the Year" at Kingwood Medical Center.
His professional interests include general cardiology, preventive care, lipid management, heart failure management, and echocardiography. When not at work, Dr. Baptista enjoys spending time with his wife and daughter, traveling, and playing golf.
Qualifications and Experience
Board Certification
Internal Medicine, Cardiovascular Disease