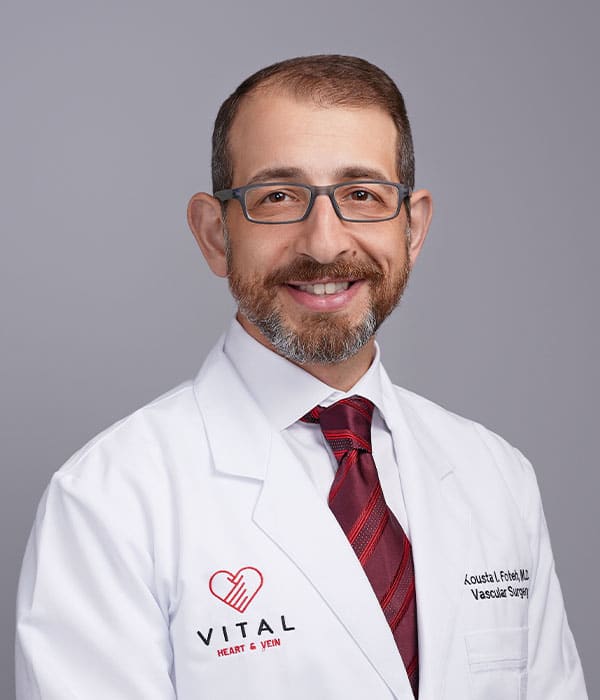 Kousta Foteh
M.D.
Specialty
Vascular Surgery
Endovascular Surgery
Dr. Foteh is a native Houstonian and graduated summa cum laude from Texas A&M University with a bachelor's degree in biology. After graduating, he attended medical school at the University of Texas Medical School in Houston. He continued his education and completed his residency in general surgery at the University of Texas Southwestern Medical School and Parkland Memorial Hospital in Dallas. In the final year of his residency, he had the distinct honor to serve as Chief Surgical Resident. This distinction is only given to one resident each year. Upon completion of his residency, he attended the University of Arkansas to complete his vascular surgery fellowship. Prior to joining Vital Heart & Vein, Dr. Foteh spent two and a half years serving a private practice at the Oklahoma Heart Hospital, the state's largest and most prestigious facility for cardiovascular disease.
Dr. Foteh is board-certified in vascular and endovascular surgery and general surgery. With these certifications, Dr. Foteh is highly skilled in both traditional open vascular surgery as well as minimally invasive endovascular surgery. He dedicates his time and expertise in training other vascular specialists across the country for advanced endovascular treatment of vascular disorders and enjoys treating a wide variety of peripheral arterial disease and venous disorders. Furthermore, Dr. Foteh has a particular interest in the treatment of aortic disorders and minimally invasive treatment for vascular disease.
Additionally, he has co-authored several book chapters and has published several articles in major medical journals. In 2015, Dr. Foteh received the "Physician of the Year Award" at Memorial Hermann Northeast Hospital. Currently, he serves as the Director of Vascular Surgery and the Chair of the Department of Surgery at Memorial Hermann NE.
Qualifications and Experience
Board Certification
General Surgery, Vascular Surgery, Endovascular Surgery