Giving blood can seem like a scary thing to do, especially if it will be your first time doing so. However, giving blood can and has helped so many people with various ailments feel better and live longer. For those who have donated before, you may only be aware of the benefits for the person receiving blood, but there are actually benefits for the donor too! Here we discuss what those 3 big health benefits of donating blood are so that you know that giving can be rewarding!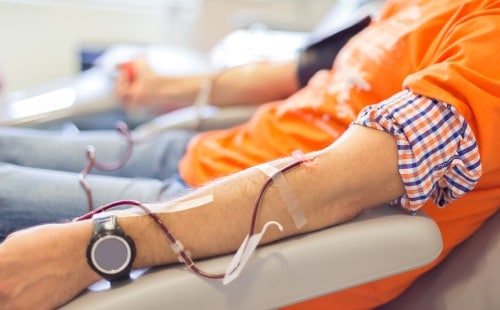 Donating blood can be a fun activity and a great way to get involved within your community. Whether you are participating with your school, company, or group of friends and family, giving blood can often bring people together—not to mention you might even get a cookie for your efforts! But after the booths have been folded up and the blood has been stored away, you may be wondering, "What now?" The truth is, some of the benefits of giving blood can be greater than you know!
What are the Benefits of Donating Blood to the Community
The bottom line is, donating blood can help save someone's life. After giving, your blood is processed and separated into its few key components: red blood cells, platelets, and plasma.
In a hospital setting, your blood may be used for someone who needs a transfusion. This includes car crash victims, burn victims, women who have given birth, or individuals who have some kind of blood disorder such as anemia or sickle cell disease. By donating blood, you may also be able to assist someone who has cancer and is facing a grueling period of treatments and endless hospital visits. Even if your blood is frozen and stored, it could be used at any moment for someone who needs it.
Giving Blood Can Lower Harmful Iron Stores
One of the benefits to giving blood that directly affects you is that you can lower the iron levels in your body, which can reduce your risk of heart disease. Prevalent in the Caucasian community, studies have shown that most people consume too much iron day-to-day. By giving blood, you lower your iron levels and allow your body to replenish it with fresh blood.
Giving Blood Can Reduce Your Chances of Developing Cancer
While we discussed lowering iron in the blood as a benefit to giving blood, the risk of developing cancer can be reduced as well. According to recent research, lowering levels of iron in the blood can reduce the risk of that individual developing cancer, even if the odds are slim.
Giving Blood Can Reduce Your Chances of Having a Heart Attack
According to the American Heart Association, someone suffers from a heart attack or stroke every 38 seconds. Donating blood can lower the risk of heart disease, which means your chances of having a heart attack decrease as well. Donating blood on a semi-regular basis can continue to lower your iron levels, lessen the stress you feel, and give you peace of mind knowing that you are donating your time and blood to those who need it.
Blood Donation Information
Aside from finding a place to donate your blood, there may also be some requirements that decide whether you can donate blood or not.
Donors are allowed to give blood every 56 days with some exceptions. You should be in good health and feeling well before you decide to donate. You must be over the age of 16 and weigh at least 110 pounds in order to donate. If you have low iron levels in your blood (anemia), unfortunately, you will not be allowed to donate blood.
What to Expect
You may feel slightly light headed or nauseous after giving blood. You might need to lie down with your feet up until you feel well enough to return back to your everyday activities. Do not be alarmed if the site of the needle on your arm becomes bruised. This is normal and should disappear within a few days.
Speak to your doctor if you experience any of the following after donating blood:
Numbness of limbs

Consistent bleeding or irritation at the needle site

Extreme nausea or dizziness



These 3 big health benefits are only some of the benefits that come with donating blood.There are so many opportunities to donate blood and make a difference in someone's life. To find out where and when these types of events take place, simply visit your local community board, go online, subscribe to blood donation emails and notifications, or visit your local hospital or clinic to ask where blood donation events take place. There is never a bad time to make a change and become more actively involved in your community.